Kirjoittanut Shirikei Aug 7, 2018 13:09:41 GMT 2
© impalae

I'm a leader, I'm a savior

Ikä:
6 vuotta
Sukupuoli:
uros
Laji:
susi
Lauma:
Tulenväki
Asema:
johtaja
Ääni:
Peter Steele (
Esim. 1
,
esim. 2
,
lauluääni
)
Tunnusmusiikki:
Ozzy Osbourne - Let It Die
Farcas on tunnettu häikäilemättömänä, kylmäkiskoisena ja itsekkäänä johtajana, suorastaan diktaattorina. Sen suututtamista pelätään, vaikka hyvin harva on saanut todistaa sen raivoa kasvotusten. Farcas on onnistunut rakentamaan itselleen maineen kylmänä raakalaisena, vaikkei se itse yleensä likaa tassujaan. Farcasiin tutustuessaan siitä paljastuukin usein varsinainen hienohelma, joka saattaa tulla yllätyksenä.



I am everything you'll ever be
Farcasin turkki on väriltään syvän musta punaisella vivahteella, joka tulee esiin hyvässä valaistuksessa. Turkki on erityisen pitkää kaulassa, poskissa sekä hännässä. Muualla kehossa se on lyhyttä ja tiivistä. Aluskarva on tiheää ja väriltään punertava. Silmät ovat väriltään verenpunaiset, pupillit ovat lähes aina pienet. Silmät ovat mantelinmuotoiset ja vinot, pitkät silmäkulmat. Otsapenger on matala joka antaa hieman vinttikoiramaisen vaikutelman muutenkin kapealle kuonolle. Korvat ovat erittäin pitkät ja runsaskarvaiset. Farcasilla on saksipurenta, ja sillä kasvaa ylimääräiset kulmahampaat yläleuoissa. Rakenteeltaan Farcas on lihaksikas ja voimakas, ja vaikka sen siluetti onkin aavistuksen vinttikoiramainen, ei uros ole millään tapaa heiveröinen. Raajat ovat suhteelliset pitkät, mutta eivät liioitellut. Kynnet pitkät ja kaareutuvat, erityisesti kannuksen kynsi on pitkä. Häntä ulottuu maahan. Farcas kantaa itseään ylväästi, pää ja häntä koholla, hienovaraisesti mutta itsevarmasti eteenpäin tassutellen. Säkäkorkeutta sillä on noin 110cm ja se painaa 75kg.
Make your heart race
With a death kiss
On sanomattakin selvää, että Farcas on määrätietoinen ja itsevarma susi. Se taistelee viimeiseen asti asioissa joita se pitää tärkeinä, ja se tekee kaikkensa saadakseen sen mitä se haluaa. Itsevarmuudestaan ja tietyntasoisesta egoistisuudestaan huolimatta Farcas on nöyrä ja kunnioittava niitä kohtaan, joiden tietää olevan voimakkaampia niin henkisesti kuin fyysisestikin. Farcas osaakin hyvin lukea ja tulkita muitten olemuksesta ja teoista henkilön sisimmän, jopa pelottavan tarkasti. Tälle sudelle arvot ovat vain sanoja - oikea arvoportaikko kulkee sen mukaan miten vahvoja yksilöt ovat. Jos mahdollisuus tulee, Farcas käyttää sen epäröimättä kivutakseen ylös arvoasteikossa. Se ei kuitenkaan ryhdy vaarantamaan henkeään saadakseen itsensä jonkun suosioon. Sille on tärkeintä olla itsensä suosiossa - olla oikeassa, tehdä oikein. Farcasin pään sisällä liikkuu asioita, jotka sanottuina olisivat aikaa sitten saaneet Farcasin hautaan. Suden mentaliteettinen voima perustuu kuitenkin nimenomaan sen itsekeskeiseen mutta varovaiseen ajattelutapaan, joka on samaan aikaan itsekäs ja häikäilemätön.
I'm a teacher - preacher - liar
I am anything, everything
Farcas oli syntynyt useita sukupolvia Tulenväen johtajana toimineen uroksen alfanartulle. Koko sen suku oli tunnettu vahvahermoisuudesta ja itsevarmuudesta, ehkä myös tietynlaisesta ylimielisyydestäkin. Farcasin isä oli alun pitäen kasvattanut poikaansa paikkansa perimistä silmällä pitäen – Tulenväen tulevasta johtajasta piti tulla häikäilemätön, kylmä ja tunteeton valtias. Ja sellaiseksi Farcasin isä poikansa onnistuikin kasvattamaan – uros on toiminut useamman vuoden johtajana ilman apukäsiä taikka alfanarttua, suorastaan diktaattorimaisesti. Farcasin vallanhimo on ollut kyltymätön, mutta kylmän laskelmoivana se on tähän päivään saakka tyytynyt hyökkäyksien suunnitteluun ja soturiensa kouluttamiseen. Vielä se ei ole saanut riittävän hyvää syytä hyökätä kummankaan Väen kimppuun, mutta sitä ei ainakaan voi sanoa, etteikö punaturkki olisi valmistautunut siihen. Toisaalta voisi myös sanoa, ettei Farcas ehkä ole myöskään tarpeeksi luottavainen hyökätäkseen – varsinainen fyysinen taistelu on jäänyt sen elämässä vähäiseksi ja sen onkin vaikea myöntää olevansa varsinainen hienohelma tätä nykyä. Uros tietää itsekin tarpeensa karaistua, jos se mielii joskus tulla tunnetuksi urheana sotasankarina.
Take the torches
From the useless
New alliance
Deeper thinkers
Isä: Tuoni (kuollut)
Emä: Tuire (kuollut)

Ei pelissä:
Jälkeläiset: Riimu (i. Farcas e. Lumme)
Jälkeläisten jälkeläiset: Jalohaukka, Koskikara, Pirun Poika (i. Riimu e. Virva)


Ystävät: Harmi
Viholliset: Hako

Honest answers
For the bruises
Taikaesineet:
Punainen kristalli valtikassa (kuva tulossa) - muodonmuutos palokärjeksi
Etsintäretkiltä:
4.10.19 Kaskimaa - kaksi harmiota ja rauta



Muut:
5.1.20 Roihukylä - Kiteen antama ametisti -
Suden kitaan
Full disclosure
No excuses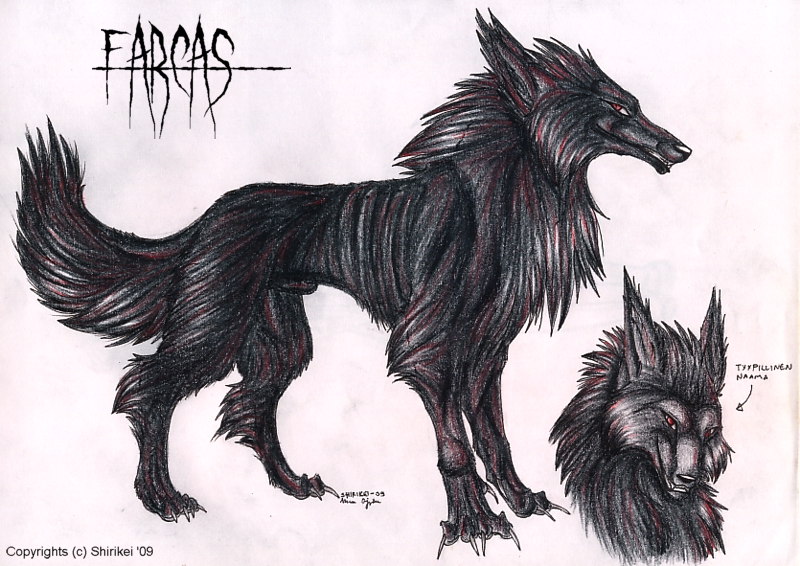 Alkuperäinen referenssikuva
(c) Hallatar
(c) Lappis
(c) RavenGuardian